Featured Artists

Alejandro Díaz‑Perera
Buşra Tunç
Cara Megan Lewis
Lara Ögel
LÜTFÜ
Nergiz Yeşil
SaraNoa Mark
Carved Conversations
is organized and curated by

SaraNoa Mark
Sultan Han rises in the distance out of the vast semi-arid Konya-Aksaray Plain, almost as a mirage to a weary traveler. An essential stop along the Silk Road it is the largest preserved caravanserai built by the medieval Seljuks of Rum. This former center of vibrant material exchange once more serves as a location for cultural interaction through the group exhibition Carved Conversations. The exhibition brings together artists from Turkey and international artists in active dialogue with the site.
The 13th-century monument was initially constructed to host a community of traveling traders and pilgrims of different cultural backgrounds, brought together by its location on the most important medieval land route across Anatolia. It was constructed as a miniature idealized city, with a mosque in its center, surrounded by rooms for entertainment, lodging, food production, healing services, exchange, and conversation, and inhabited by pilgrims, traders, craftspeople, cooks, entertainers, storytellers, musicians, grooms, religious professionals, mystics, servants and enslaved individuals. Interactions among these people could only have taken place in this environment, one that existed within the local, natural, and social landscape. These exchanges transformed the daily lives of people throughout Eurasia, and spread the broader understandings of geography, religion, economics, political thought, and advances in science and technology that created the modern world.
After centuries, collapses caused by strong winds and earthquakes, and changes over multiple restorations, the Sultan Han monument still attracts curious travelers. Carved Conversations, an exhibition of sculpture, multimedia, and textile artworks forges a new community of artists with diverse cultural and visual perspectives. This community, like the one that inhabited the site centuries ago, is tied together by hospitality and shared interactions, within the intricately carved architecture of the caravanserai. The exhibition explores the construction of collective memory, and the role of geography in determining locations that remain worthy of pilgrimage and preservation. The public is invited to take part in these conversations.
Buşra Tunç
(b. 1988, TR) is an architect/artist whose work focuses on perceptionand experience in the fields of architecture, art and design. Having studiedarchitecture, cinema and sound, Tunç works with "Atmosphere" as the focal point ofher work. Working with industrial and everyday materials, optical units and analoginstruments, Tunç often considers structures containing remnants and memoriesfrom industrial spaces and crowded cities. Tunc has collaborated with MassimilianoFuksas, Pera Museum, İstanbul Modern and Salon of the Museum of ContemporaryArt Belgrade. Tunc''s main site-‑specific projects are: Suruhu (Nakilbent Cistern,2015); Oculus (Msgsü Tophane-‑i Amire, 2016); Majaz (Buyuk Valide Khan, 2017).Tunc also has been involved with a spatial video work in the exhibition "Re/FramingLouis Kahn" (Pera Museum, 2017), "Remix" (Akbank Sanat, 2018), "Parajanov, withSarkis" (Pera Museum, 2019) in various roles in the architectural design. She tookpart in the artist program selections of Tokyo Biennale and Cité International DesArts institutions. busratunc.com
SaraNoa Mark
(b. 1991, NY, US) pursues a drawing practice that investigates traces left by time as they exist in landscapes and in collective memory. SaraNoa'swork has been supported by a Fulbright research fellowship in Turkey and has received grants from the U.S. Embassy Mission Grants Program in Turkey, Luminarts Cultural Foundation, The John Anson Kittredge Fund, Illinois Arts Council, Department of Cultural Affairs and Special Events Individual ArtistsProgram, and a SPARK grant. SaraNoa's work is in the permanent collection the West Collection. Upon graduating from the Pennsylvania Academy of the Fine Arts SaraNoa was awarded a European travel scholarship. SaraNoa was a BOLT residentat the Chicago Artists Coalition, and has held residencies at the MontelloFoundation, Jackman Goldwasser Residency at the Hyde Park Art Center. Recent exhibitions of their work have taken place at the Chicago Cultural Center, Chicago, IL; Daniel Faira Gallery, Toronto, Canada; Bridge Projects, Los Angeles, CA; Davis & Langdale Company, New York, NY among others. SaraNoa was one of NewCity's 2021 breakout artists. She is a co‑director at the 4th Ward Project Space in Chicago. Carved Conversations is organized and curated by SaraNoa Mark.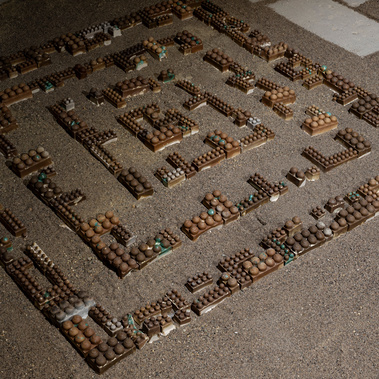 LÜTFÜ

(b. 1994, Giresun, TR) received both BFA and MFA degrees from Hacettepe University Faculty of Fine Arts Division of Ceramics. He also studied in the International Ceramics Studio in Kecskemet, Hungary. LÜTFÜ presents long-‑lived objects remaining in the memory by filtering them through a blurred perception. This work is founded in the tensions innate in perception, focusing on oppositions both large and small. Building on these tensions, he aims to open new and unfamiliar ground to the audience. He works primarily with ceramics in juxtaposition with other media, creating new types of multimedia and installation art. LÜTFÜ has exhibited work at I ME CE Sanat Oluşumu (solo exhibition), Barın Han Art Project, Martch Art Project, Siesta Art Project, Galeri Mixer, and BASE New Artist Platform. lutfullahgenc.com
Cara Megan Lewis
(b. 1978, Kansas City, US) is an artist, curator and arts advocate based in Los Angeles, CA. Formerly one of the founding directors of Bridge Projects, a curatorial platform fostering interdisciplinary explorations among contemporary art, spirituality, and religious traditions, Cara is now Deputy Director of the Wende Museum of the Cold War. These two posts, as disparate as the contexts seem, demonstrate Cara''s long-‑time interests in religious traditions and human rights issues. Transformation is at the core of her practice as both an artist and curator. As an artist, she works in the media of photography, video, performance, and installation and often collaborates with her husband Alejandro Figueredo Díaz-Perera under the moniker Díaz Lewis. diazlewis.com
Lara Ögel
(b. 1987, Izmir, TR) lives and works in Istanbul. Ögel works with video, sculpture, collages, installations and works on paper to create site and context-‑ aware environments. Ögel''s art is informed by a research method that is both intuitive and vernacular, focusing on literature, oral histories, and found footage. A strong fascination with systems of belief, constructs of spirituality and folklore motivate her artistic output. Ögel approaches natural phenomena and fauna and flora motifs as a culturally universal language, transcending their geographically-‑ specific characteristics and laying bare the parallels that connect living beings trans-‑historically and trans-‑culturally in a recognizable iconography. She received her bachelor degree in Screen Studies from Clark University in Worcester, MA. Ögel attended the Intensive Summer Foundation at Slade School of Fine Art in London. She has participated in artist residencies in PRAKSIS (Oslo), Beirut Art Residency (Beirut) and Cité des arts (Paris) and exhibited in Istanbul, Beirut, Hasselt, Paris, Leipzig, Basel, Athens, Porto, New York and Amsterdam. laraogel.com
Nergiz Yeşil
(b. 1988, Istanbul, TR) received her BFA (2014) and MFA (2020) fromMimar Sinan Fine Arts University, Sculpture Department. She wrote her master'sthesis on bio art with the title of "Using Biological Material in Artwork." In 2018, shestudied at The Artesis Plantijn Hogeshool Antwerpen, The Royal Academy of FineArts, Antwerp (sculpture department with Erasmus student exchange program) inAntwerp, Belgium. She has participated in many group exhibitions and projects in Europe and Turkey. Her first solo exhibition, Paleontology Museum, took place in PGArt Gallery in 2019. She was awarded many awards including Sabancı Art Awards.She continues her life and studies in Istanbul. nergizyesil.com

Alejandro Figueredo Díaz-Perera
(b. 1991, Havana, CU) is a conceptual artist from Havana, Cuba who works in a variety of media including video, photography, painting, installation and text. Through his practice, he seeks to make connections between the personal and the universal points of view, exploring absence and paradox in many different ways, by the process of forcing to contradict himself. Alejandro lives and works in Los Angeles, CA, and is represented by Engage Projects, Chicago. alejandro-figueredo-diacuteaz-perera-bio.html
Carved Conversations
Ağustos 25 ‒ Ekim 30, 2022
Sultan Han, Caravanserai, Sultanhanı, Turkey
Hours: Open daily, 8:00 - 18:00
Photography by Zeynep Firat, image graphics by M Slater